3 Tips for Avoiding House-Hunt Heartbreak
Date:February 12, 2013|Category:Tips & Advice|Author:Brendon DeSimone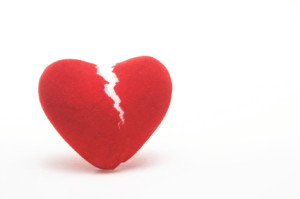 It's been said over and over and over: House hunting is like dating. A buyer sees a series of homes, much like going on dates, before finding "the one" and settling down, or purchasing.
How will you know when you've found "the one," and how can you determine when it's time to move on?  It's important to keep your eye on the prize. "The one" doesn't show up overnight. Much like dating, house hunting is an evolution. A buyer needs to see many houses, learn about the market and maybe even have a heartbreak or two. All of these experiences will inform the buyer and provide serious context when "the one" presents itself.
Here are three tips for not getting your heart broken in the home search process.
Prepare to get your feelings hurt by a seller
The seller doesn't have to sell to you. It's entirely possible that, especially given the lack of inventory and the influx of home shoppers today, even if you offer the seller their list price the home may not be yours. Another buyer may offer more than you, may have a larger down payment or may offer the seller a swift closing and more favorable terms. Even if you think this is the perfect home for you and your family, starting a love affair with it in your head will only lead to disappointment down the road.
Don't obsess over one home
Most buyers begin their home search with a list of wants, needs, must-haves and nice-to-haves as well as deal-breakers. You will never get it all, so it's important to know when to compromise. Often the "perfect" home will come along, but the buyer loses sight of their objective. Saw a home with a designer kitchen that you can't get out of your head? That might be great, but if the home doesn't have room for two cars, doesn't have the required square footage or lacks that all-important second bathroom, you need to move on. Harboring feelings for a home that you know won't work only serves to get you sidetracked and out of focus
Don't fall too hard
It's no longer a done deal once the contract is signed. Many times a buyer and seller come to an agreement on terms and price, even sign a contract, only to have a series of issues come up in the disclosure and inspection phase. Don't fall hard once you have a signed contract. This will only make the discovery process more heartbreaking. Know that dozens of issues can come up in escrow. If it's not working out, be ready to move on. The longer you hang around and obsess over one home, the bigger the chance that you'll miss out on Mr. or Ms. Right around the corner.
Know upfront that the home shopping process will be a journey. Expect to see a lot of homes and learn a lot along the way. No matter how frustrating the process is, believe that the journey will eventually come to an end and that "the one" will present itself.  Much like dating, touring many homes will allow you to play the field, see what's out there and learn the market. The more you see, the more you will know when the right "one" comes along and you're ready to seal the deal.
Related:
Brendon DeSimone is a Realtor licensed in both California and New York. He has collaborated on multiple real estate books, and his real estate expertise is regularly sought out by print, online and television media outlets like FOX News, CNBC and Forbes. An avid investor, Brendon owns real estate around the U.S. and abroad. You can find Brendon online or follow him on Twitter and Google +
Note: The views and opinions expressed in this article are those of the author and do not necessarily reflect the opinion or position of Zillow.