30-Year Fixed Mortgage Rates Continue to Slide for Second Consecutive Week
Date:March 5, 2013|Category:Finance|Author:Camille Salama
Mortgage rates for 30-year fixed mortgages fell this week, with the current rate borrowers were quoted on Zillow Mortgage Marketplace at 3.37 percent, down from 3.4 percent at this same time last week.
The 30-year fixed mortgage rate remained fairly flat during the week, hovering between 3.4 and 3.35 percent before dropping to the current rate this morning.
"Rates dropped slightly last week as eurozone concerns offset strong domestic economic data," said Erin Lantz, director of Zillow Mortgage Marketplace. "We anticipate rates to remain fairly flat this week, unless employment data comes out much stronger than expected."
Additionally, the 15-year fixed mortgage rate this morning was 2.6 percent, and for 5/1 ARMs, the rate was 2.23 percent.
What are the rates right now? Check Zillow Mortgage Marketplace for up-to-the-minute mortgage rates for your state.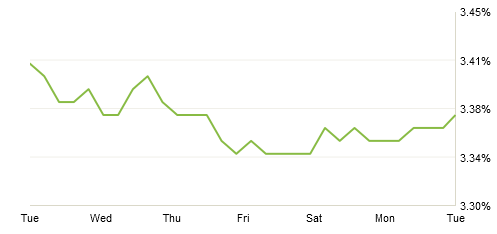 *The weekly rate chart illustrates the average 30-year fixed interest rate in six-hour intervals.