30-Year Fixed Mortgage Rates Surge to 9-Month High
Date:March 12, 2013|Category:Finance|Author:Camille Salama
Mortgage rates for 30-year fixed mortgages rose this week, with the current rate borrowers were quoted on Zillow Mortgage Marketplace at 3.55 percent, up from 3.37 percent at this same time last week.
The 30-year fixed mortgage rate peaked at 3.58 percent over the weekend, dropping to the current rate this morning.
"Mortgage rates surged to their highest level in 9 months in response to an unexpectedly strong jobs report," said Erin Lantz, director of Zillow Mortgage Marketplace. "This coming week, we expect rates to gradually drift upward on continued improvement in economic growth and consumer confidence."
Additionally, the 15-year fixed mortgage rate this morning was 2.7 percent, and for 5/1 ARMs, the rate was 2.3 percent.
What are the rates right now? Check Zillow Mortgage Marketplace for up-to-the-minute mortgage rates for your state.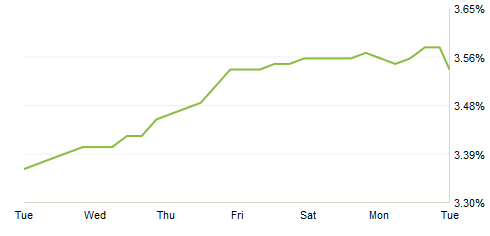 *The weekly rate chart illustrates the average 30-year fixed interest rate in six-hour intervals