Date:April 19, 2013|Category:Housing Forum|Author:Cory Hopkins
The housing recovery is on firm ground as buyers return to the market in droves and U.S. home values continue their more than year-long upward march. But stagnant income growth and a lack of flexible mortgage finance opportunities for home buyers are among the main concerns going forward, top economists and policymakers said recently at the Zillow-sponsored Forum on the Future of Housing.
The forum, held April 18 at the Newseum in Washington, DC, and produced by Zillow in partnership with the American Action Forum and Progressive Policy Institute, attracted more than 250 attendees to listen to a series of panel discussions and keynote addresses featuring elected officials, leading housing-related association heads and housing analysts. Among the highlights were comments from Sen. Johnny Isakson (R-GA) and Sen. Jeff Merkley (D-OR), who each spotlighted the need for mortgage reform that is safe, sustainable and fair to borrowers and private lenders alike.
"We didn't have a down payment recession, we had an underwriting recession,"  Isakson, a former real estate agent for more than 30 years, said during his conference-opening address. Underwriting standards supported by government-sponsored entities (GSEs) Fannie Mae and Freddie Mac prior to the housing recession helped inflate the housing bubble by sacrificing loan safety for profit, Isakson said. He has proposed phasing out the federal backstop role in the secondary mortgage market over 10 years, leaving a single, private company that's created to eventually replace Fannie and Freddie.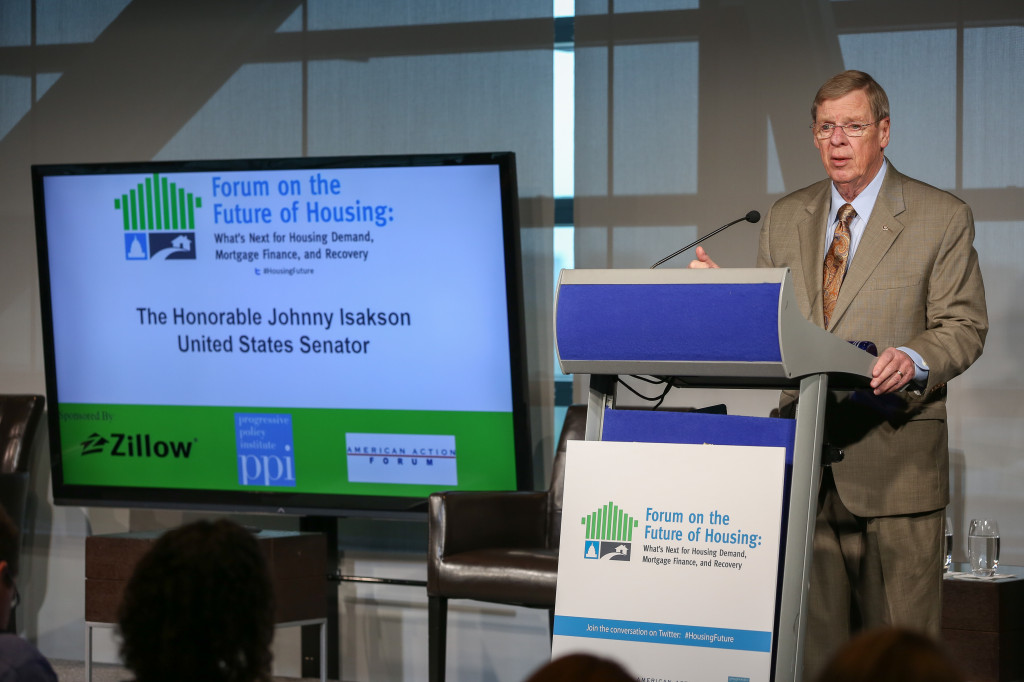 Keynote address by Johnny Isakson, United States Senator (R-Ga)
In the forum's closing address, Merkley echoed his Senate colleague's concerns over Fannie and Freddie's pre-bubble excesses.
"We should never again let the humble, amortizing, fixed-rate mortgage become a predatory instrument," Merkley said. "We can't afford to get GSE reform wrong. We can't afford to return to the former Fannie and Freddie model of private gain, public pain."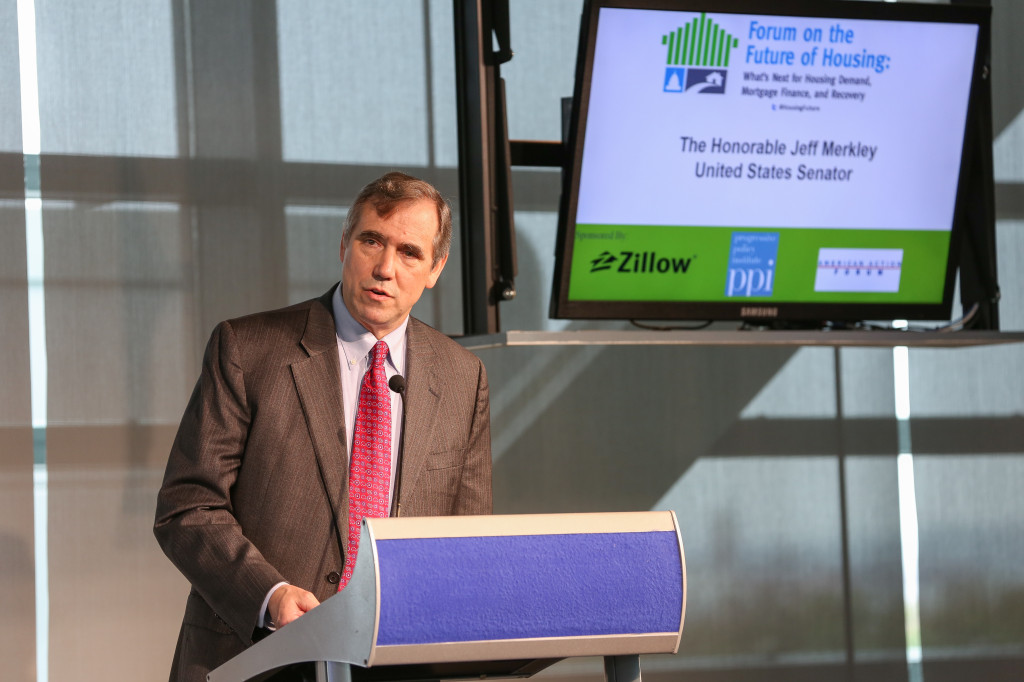 Keynote address by Jeff Merkley, United States Senator (D-Ore)
The first panel discussion focused on the future of housing demand. It was moderated by CNBC real estate correspondent Diana Olick and featured Eric Belsky, managing director of Harvard University's Joint Center for Housing Studies (JCHS); Mark Calabria, director of financial regulation studies at the Cato Institute; Doug Holtz-Eakin, president of the American Action Forum; Jerry Howard, CEO of the National Association of Home Builders (NAHB); and Richard A. Smith, chairman, CEO and president of Realogy Holdings Corp.
The panel agreed that rising home prices are a boon to current homeowners but could present an obstacle for future buyers as income growth stagnates while prices keep escalating. Much of the discussion also focused on the current role of large and small investors in the housing market and how much of an impact they will have going forward.
"Dismiss the idea that this is an investor-driven recovery," Realogy's Smith said. "It's not."
Howard of the NAHB cited rising household formation rates as an indicator of solid future demand for housing, particularly at the first-time home buyer level. But he also said builders are having difficulty creating supply to meet this nascent demand, as lending standards for land acquisition and development for builders remain incredibly tight.
Other panelists pointed to growing demographic diversity, increasing urbanization and the enormous size of the so-called "echo boom" generation as future drivers of housing demand.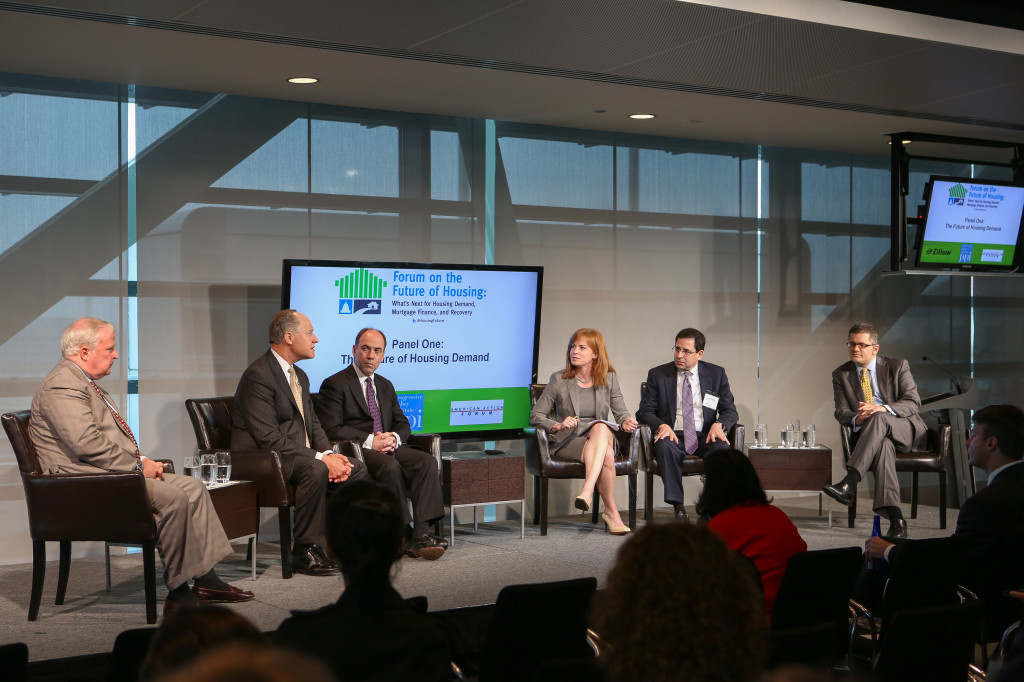 Panel on The Future of Housing Demand moderated by CNBC's Diana Olick.
Nick Timiraos of the Wall Street Journal moderated the second panel, focused on the future of mortgage finance. Panelists included Mike Fratantoni, vice president of the Mortgage Bankers Association (MBA); Jason Gold, senior fellow for financial markets at the Progressive Policy Institute; Laurie Goodman, senior managing director at Amherst Securities Group L.P.; Chris Mayer, Paul Milstein professor of real estate at Columbia Business School; and Scott Simon, managing director of Pacific Investment Management Co. (PIMCO).
The capacity of lenders to actually make loans was a major topic. PIMCO's Simon said loan capacity was down 45 percent, largely because several of the largest lenders in the country, including Citibank and Bank of America, have essentially stopped writing mortgages. Fratantoni of the MBA said much of the reluctance to write loans can be attributed to the very low margin for error among lenders facing harsh and costly penalties for regulatory non-compliance.
"The mortgage industry used to be like a factory that made sweaters. Every now and then, you got a few that were imperfect, and had a few threads loose, but it was mostly OK," Fratantoni said. "Now, the mortgage industry is a factory that makes jet engines. And nobody wants an imperfect jet engine."
Mayer said the mortgage industry could benefit from improving technology, as other industries have, but has so far been slow to adopt new, digital evaluation, underwriting and management processes. He also advocated for portable mortgages, which could be carried throughout a homeowner's lifetime as they move from home to home.
All panelists said they were concerned that rising mortgage interest rates may disrupt the mortgage market in coming years, making mobility more difficult and dampening demand for adjustable-rate mortgage products that are likely to become more expensive over time, not less.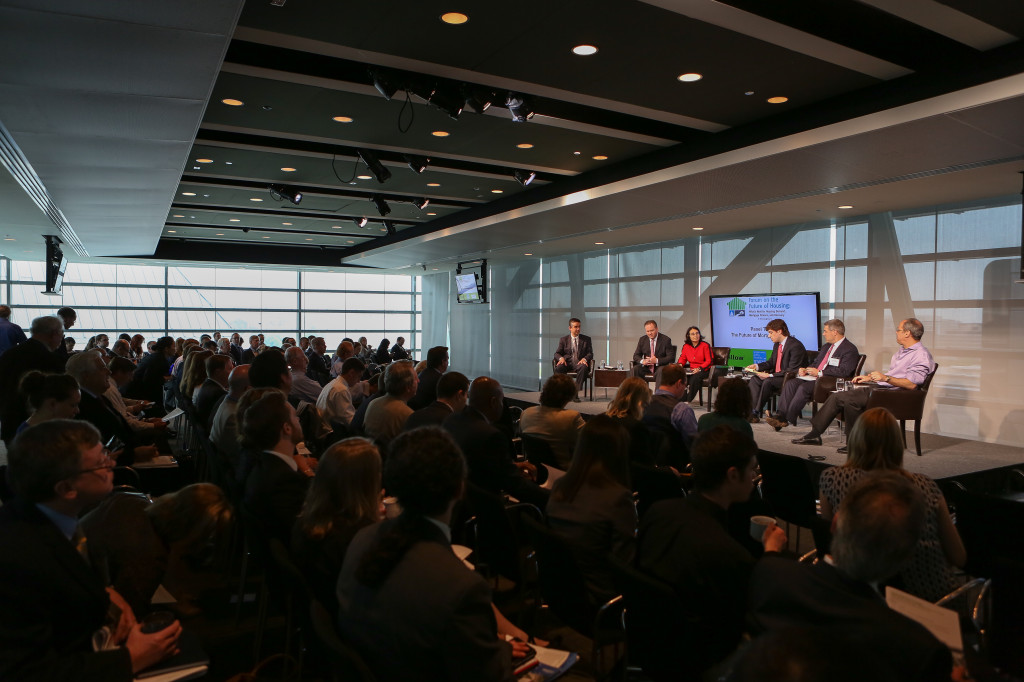 Panel on The Future of Mortgage Finance moderated by The Wall Street Journals' Nick Timiraos
Thanks to everyone who attended our Forum on the Future of Housing. Please check back here next week, when we will have an on-demand video of the forum available. For Zillow Chief Economist Stan Humphries' full PowerPoint presentation highlighting the national housing market please click here.