Date:April 19, 2013|Category:Tips & Advice|Author:ProfessorBaron.com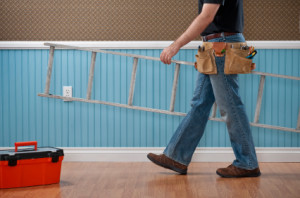 If you're a new rental property owner, or even someone just considering becoming a landlord, you're probably wondering which home improvements make the most sense when updating your investment property. Should you replace the windows or flooring? What about painting the walls and upgrading fixtures and finishes in the bathrooms and kitchen?
The nicer your property, the longer you'll likely keep your tenants. With that in mind, these improvements should make your property desirable without putting too much strain on your wallet.
Interior paint
New paint in a lighter shade is always nice. Glidden Soft Ecru, for example, is light and bright, and you can use a flat or semi-gloss finish for walls. Whatever color you choose, make it a lighter color and paint the whole house the same shade, except ceilings, which should be white.
Flooring
Carpeting can be relatively inexpensive but usually only lasts a few years. Plus many tenants get the "ick" factor seeing worn wall-to-wall carpet filling a space. Many landlords are opting instead for wood laminate flooring, which looks great and is tough as nails while being less expensive than hardwoods. Laminate is easy to clean between tenants, and there'll be no arguments over who should pay for carpets to be cleaned. It's better, however, to stick to tile in the kitchens, bathrooms and other high-plumbing areas.
Plumbing
If the property is reaching its second decade, you should consider having a plumber change out all the water valves, hose bibs, supply hoses and sink faucets (you can skip the in-wall supply or drain lines, as they typically last a much longer time). Check the dishwasher supply and drain lines, and especially the washing machine supply hoses and drain hose, which should be changed out every few years. Doing this upfront work will help reduce the risk of a pricey water-related disaster.
Bathrooms
Changing out old towel bars, toilets and sink faucets shouldn't be too expensive. A new vanity top, medicine cabinet and/or light fixtures can be installed by a good handyman. If the property is 30-plus years old, it might be time to change out the shower, tub and floor tile as well.
Kitchen
The kitchen gets more expensive, so hopefully it's been updated a little. If not, having the cabinets sanded and painted, and adding nice doorknobs should update the space without too much expense. Switching out old fluorescent ceiling lights for new track lighting and adding a newer countertop (laminate isn't too pricey) could really update the look for years going forward. Consider changing out the sink/faucet, too, if you're doing the countertop. You can find reasonably priced replacement combo packs at home improvement stores.
Door knobs and locks
These aren't too expensive, and you can switch them out yourself. Interior knobs make the unit look much nicer, and exterior knobs and locks add security. Try Kwikset's Smartkey exterior locks, which can be re-keyed in place between tenants.
Related:
Leonard Baron, MBA, is America's Real Estate Professor®. His unbiased, neutral and inexpensive "Real Estate Ownership, Investment and Due Diligence 101" textbook teaches real estate owners how to make smart and safe purchase decisions. He is a San Diego State University Lecturer, blogs at Zillow.com, and loves kicking the tires of a good piece of dirt! More at ProfessorBaron.com.
Note: The views and opinions expressed in this article are those of the author and do not necessarily reflect the opinion or position of Zillow.