30-Year Fixed Mortgage Rates Down Slightly
Date:April 2, 2013 | Category:Finance | Author:Alexa Fiander
Mortgage rates for 30-year fixed mortgages fell this week, with the current rate borrowers were quoted on Zillow Mortgage Marketplace at 3.43 percent, down from 3.47 percent at this same time last week.
The 30-year fixed mortgage rate hovered between 3.44 and 3.5 percent for the majority of the week, dropping to the current rate this morning.
"Rates were unchanged last week, with limited news to move markets during a holiday-shortened week," said Erin Lantz, director of Zillow Mortgage Marketplace. "This coming week, we expect rates to remain relatively calm, with little economic or political news to push them significantly higher unless Friday's employment report is much stronger than expected."
Additionally, the 15-year fixed mortgage rate this morning was 2.58 percent, and for 5/1 ARMs, the rate was 2.29 percent.
What are the rates right now? Check Zillow Mortgage Marketplace for up-to-the-minute mortgage rates for your state.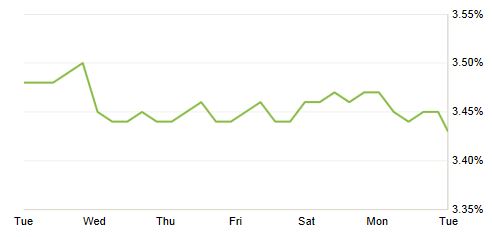 *The weekly rate chart illustrates the average 30-year fixed interest rate in six-hour intervals.