Mortgage interest rates hit their lowest levels for 2014 this week.
The average interest charged to borrowers for a 30-year, fixed rate loan fell to 4.21% from 4.29% last week, according to Freddie Mac's weekly mortgage rate report.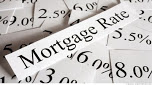 Rates have not been this low since the week of November 7, when they were at 4.16%.
The 15-year, fixed rate mortgage, a popular loan for homeowners refinancing existing mortgages, hit 3.32%, down from 3.38% last week.